Patient Care Technician General Med Surg
Company: North Florida Regional Medical Center
Location: Gainesville
Posted on: October 14, 2021

Job Description:

Description

SHIFT: Nights (rotating weekends)
SCHEDULE: Full-time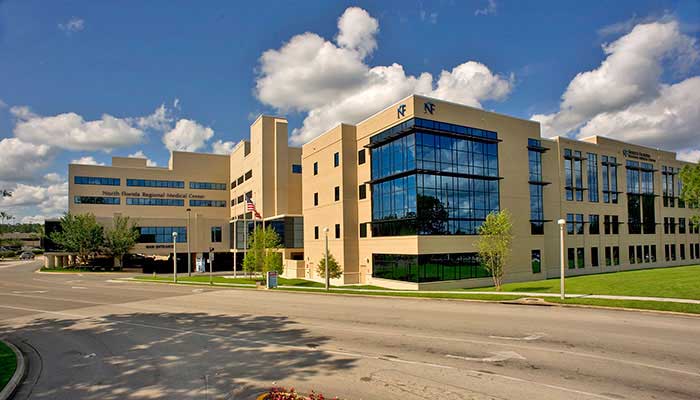 NFRMC is a 510 bed, full-service medical and surgical acute care center serving North Central Florida for over 49 years. NFRMC offers comprehensive cardiovascular care, oncology, orthopedics, neurosciences, minimally-invasive laparoscopic and robotic surgery, weight loss surgery and treatment, women's health and wound therapy, among other services. NFRMC is fully accredited by the Joint Commission, is certified as a Comprehensive Stroke Center, an Accredited Chest Pain Center by ACC (American College of Cardiology), and is designated as a Blue Distinction Center for Spine Surgery and Bariatric Surgery. NFRMC has also received the highest scores available recognizing their commitment to patient safety and quality of care.
You are worth more than a paycheck. Our Benefits Raise the Bar:
401(k) with an employer match up to 9%
Employee Stock Purchase Plan
Student Loan Assistance
Tuition Reimbursement
Paid Family Leave
Medical Plan Options, Dental & Vision
And much more!
North Florida Regional Medical Center's Medical-Surgical team is a fast-paced unit caring for adults of all ages, with a variety of disease processes. From pneumonia, necrotizing fasciitis to monkey bites, you will see it all. No two days will be the same. The Medical-Surgical unit offers a family atmosphere with work/life balance and teamwork at the core of our values. The nursing leaders are dedicated to ensuring extraordinary healthcare is delivered to the patients we serve. The nursing leaders encourage the team to reach their fullest professional potential, while supporting the team member's career goals! The Medical-Surgical team has above a 90% national certification rate and high employee engagement. As a team member, you will have many opportunities to share your voice and guide positive impacts through both facility-level and unit-level shared governance councils.
The Medical-Surgical unit is often the unit selected to pilot new technology and initiatives for the facility, allowing team members the opportunity to learn and master new skills and tools. The team has a belief in being trained for everything and ready for anything. This belief is a cornerstone of the foundational experience that you will receive on the Medical-Surgical team, allowing you to learn, grow, and challenge yourself every day.
Come join the team and our journey to becoming the best Medical-Surgical team in the facility, community, and state. The team is dedicated to enriching our community through extraordinary healthcare with unmatched dedication and compassion!
Position Description: The Patient Care Tech delivers high quality, patient-centered care by performing a variety of delegated basic patient care services related to common nursing functions and activities of daily living. Under the supervision of the registered nurse (RN), the PCT assists the nursing staff in providing patient care in accordance with the PCT's skills/training and the needs of the Department, and consistently assists the patient care team with maintaining a clean, well-organized, and safe patient care environment. The PCT complies with all hospital policies/procedures and observes the State of Board of Nursing rules or unlicensed personnel.
Participates in the implementation of nursing care plans by performing direct and indirect patient care under the supervision of the licensed nurse.
Obtains and records initial and ongoing patient information throughout the cycle of care, including admissions data, vital signs, height and weight, blood pressure, oxygen saturation, blood glucose levels, intake and output, and calorie counts.
Documents observations, interactions, patient responses to performed activities, and any physical or behavioral changes at time of occurrence. Reports observations of individual patients to the RN/Team Leader.
Assists with mobility by regular turning and positioning, dangling, and ambulating patients. Assists with use of walkers, crutches, canes, and wheelchairs. Transfers patients to and from other units, departments, or entities. Assists with discharges. Demonstrates proper body mechanics.
Provides or assists with non-medicated support care, including non-sterile dressing changes, skin protection, application of heat or ice, and venous compression devices.
Obtains or assists in the collection of specimens for diagnostic or waived tests. Ensures accuracy of all labels and timely transfer of specimen.
Retrieves medication from pharmacy, storage room, or tube system and delivers to licensed staff member as instructed.
Assists with patient preparation for surgery or other procedure.
Orients patients/families/caregivers to room and hospital routine.
Assists patients with activities of daily living to include eating and drinking, bathing, shaving, oral care, grooming, and elimination. Changes bed linens as needed.
Performs hourly rounding and responds promptly to call lights and patient requests. Strives to anticipate patient needs and resolve them proactively.
Follows patient and employee safety/security policies and protocols, including hand hygiene, use of universal precautions, use of personal protective equipment, and adherence to isolation procedures.
Prepares and maintains clean, hazard-free patient rooms. Empties trash and removes soiled linens.
Assists with post-mortem care.
Assists in the setup, removal, and cleaning of equipment. Identifies malfunctioning equipment and initiates repairs.
Performs clerical work as needed, including assembling and maintain charts, filing, answering and transferring phones, and relaying messages.
Promotes consistent, positive patient interactions that advance the agenda of unparalleled patient service.
Demonstrates caring and empathy in all interactions and advocates for patient- and family- centered approach in all decisions and actions.
Demonstrates excellent communication skills, including active listening. Ensures patients, physicians, and colleagues have a clear understanding of all communications.
Engages in evidence-based best practices that enhance the patient experience, including SAFETY rounding, communication fundamentals/AIDET, Teach-Back, Narrating Care, etc.
Participates as an active member of the health care team and positively promotes the rest of the team to patients/families/caregivers and other colleagues.
Maintains a professional appearance and demonstrates behaviors consistent with established policies/procedures.
Assists with orientation of new personnel as directed. Serves as a positive role model and resource for peers.
Seeks opportunities to impact the growth of the organization by promoting excellence in patient experience and providing high quality care to the patients served.
Monitors unit and individual patient rooms to assess availability of supplies. Restocks to optimum levels as instructed.
Utilizes charge system for supplies and equipment.
Practices and adheres to the "Code of Conduct" and "Mission and Value Statement".
Performs other duties as assigned.
Qualifications
Position Requirements:
Education Required:
High School graduate or GED preferred.
CNA Training Program
Experience Required:
Enrolled in nursing school or 6 months patient care experience in at least one of the following areas: CNA, EMT, PCA, Paramedic, nursing home, hospital, or equivalent.
Completion of an approved CNA program with direct patient care experience and/or 6 months experience at North Florida Regional may be substituted for the above experience requirement.
Skills, Knowledge, and Abilities:
Demonstrated skills in organization, verbal and written communications, customer service, math, analysis, reading, following instruction, basic computer usage. Medical terminology.
Licensure/Certification:
Current FL Certified Nursing Assistant license
BLS through American Heart Association
An EEO/AA Employer M/F/V/D. Tobacco Free Campus
Notice
Our Company's recruiters are here to help unlock the next possibility within your career and we take your candidate experience very seriously. During the recruitment process, no recruiter or employee will request financial or personal information (Social Security Number, credit card or bank information, etc.) from you via email. The recruiters will not email you from a public webmail client like Gmail or Yahoo Mail. If you feel suspicious of a job posting or job-related email, let us know by clicking here.
For questions about your job application or this site please contact HCAhrAnswers at 1-844-422-5627 option 1.
Keywords: North Florida Regional Medical Center, Gainesville , Patient Care Technician General Med Surg, Other , Gainesville, Florida
Didn't find what you're looking for? Search again!